Sally Faulkner
Founder and Distiller
I conceived the idea of Bond Street Distillery after an evening with friends who claimed that they didn't like gin, yet they were happily drinking gin-based cocktails. The realisation for me was that to create a great gin you needed to ensure that the botanicals created the right balance. My vision was to persuade even the most ardent gin hater to reconsider the simple pleasures of a damn good traditional gin and tonic. Being a gin-dependent woman in the distillery industry has helped me build a team at Bond Street that epitomises my work ethic, vision of making the impossible possible and bringing a sense of joy. I want to show everyone the pure delight of a damn good Gin and Tonic.
Bond Street houses beautiful spaces, a great cocktail bar and of course our gin school which brings a little fun and magic to the art of gin making. Creating new tastes, working with the botanicals and of course taste testing makes my job the best job in the world.
If I was a drink, I'd be a Bond Street Martini, I'm a little bit different and certainly there is always a twist with me.
Sally's Bond Street Martini Recipe
Secret recipe coming soon…
Ed Gibson
Bond Street Distillery – Head Distiller
I joined Bond Street with a simple mission 'Build, experiment and be part of a Vision'. For me it's being part of a team at the start of a story working with dynamic and passionate people who also want to create the truly marvellous and even sometimes the bizarre! I previously worked for two years at Burleigh's Gin working alongside Master Distiller Jamie Baxter, not only was I distilling, launching products that I had designed but I helped develop the gin schools, the events and even had the occasional appearance on TV and Radio. My Dad taught me to make a gin & tonic when I was nine, he wouldn't let me taste it but he showed me there was an artistry to a gin & tonic and I think that ideal has followed me through my bar work at university and on to collating an eighty strong gin menu. Being a distiller is a joy; following an idea from conception to that first pour and seeing the reaction of the drinker is still a wonder to me. 
If I was drink, I'd be an 'Old Fashioned': simple in concept yet comes with many different facets beneath the surface waiting to be unleashed.
Lucy Faulkner
Administration and Customer Relations Manager
When I was asked, I jumped at the chance to come to Bond Street. Who wouldn't? My career so far has encompassed retail management, account managing and company contracts. Coming to Bond Street has offered me the exciting opportunity to work within a dynamic management team, great customers and to support a company at the beginning of its quest for world domination.
I've found in my short time the creativity, new ideas and amazing cocktails is obviously a drawback to working here but don't worry I'll soldier on! In all seriousness Award winning products, great concepts and fantastic venue This is my dream job.
If I was drink, I'd be a Hinckley Lady of course.
Damion Nickerson
Company & Operations Manager
When I was first asked if I wanted to project manage a distillery from renovation into its launch and beyond I thought it was possibly too good to be true. But true it was and still is. This job has always had many facets and what I've learnt along the way is not always that useful but some of it has astounded me. My background has always been projects, building infrastructure and looking at how you market those projects. Bond Street continues to surprise me on a day to day basis with some of the strange requests I get, the excitement that the project has created locally and the challenges that opening such an ambitious project puts in front of me. It's always fantastic working with visionary people and the founder Sally has that in abundance, her choice of team and associate companies has been excellent. 
If I was a drink, I'd be a Bramble, sweet, sour and stuck in the 80's.
Stuart Tremayne
Bond Street Social – Hospitality and Bar
When I first came to Bond Street to meet the owner I was blown away by the energy and was excited that I could come in and help the Bar Manager establish the Bond Street Social as the place to be. I was originally in the Air Force and when I left, I travelled the world running bars and mixing cocktails but when I moved to Hinckley I was looking for a real challenge. I want to make sure that when people walk through the door they feel that they are loved, working with the whole team here is like having a creative hub with ideas (some a little out there) but it's always funny and amazing. I love building a rapport with the customers even if it is only for the evening and understanding what tipple will delight them and my challenge.
If I was a drink, I'd be a Mojito: Cool, fresh but on a hot day a little sharp.
Leah Nicholson
Bond Street Social – Bar
Having lived in Hinckley all my life I was so excited to find there was new venue in town and even more excited when I got the job. I love connecting with people and especially when they are having a good time and a great experience.
If I was a drink, I'd be a Pink Gin and Lemonade – simple, effective and guaranteed to make you want to get up and dance.
John Taegel
Bond Street Social – Bar
My experience and enjoyment of making and drinking cocktails makes the late nights totally worth it. I wanted to work at Bond Street as soon as I saw the venue, I knew that I wanted to be here from its opening and here I am. I get to listen to music, have fun and make great cocktails, what more could I want?
If I was a drink, I'd be a Negroni: hesitant at first but the more you drink the more you want!
Phoebie Bakewell
Bond Street Social – Bar
If my day job teaching Children doesn't keep me busy enough then the distillery does. The friendly environment and the wow factor of Bond Street will keep us really busy with our customers. This place is like going back to school, I feel like I'm back in education again being taught by the gin professors here. Hinckley needed this place.
If I was drink, I'd be a Cherry Bakewell cocktail – no fancy reason it just has my last name in its title and it tastes good.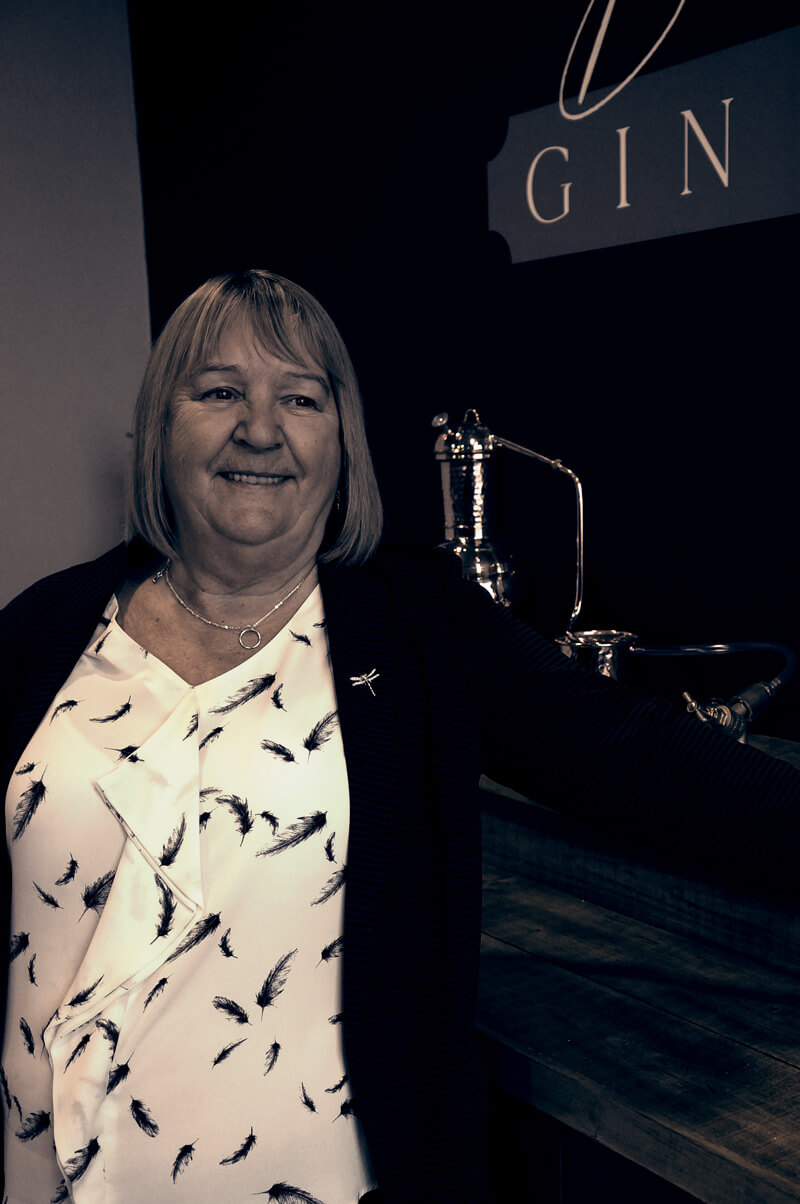 Jane Brennan
It is with great reluctance that the team say goodbye to Jane Brennan who has been with Bond Street since 2019 – Retirement has been sneaking up and Jane has decided she is going to hang up her full time iron rod. The bond street team are very sad but it is saving them a fortune in bribe Bounties for their late paperwork.
I'd like to put on record my personal thanks for Janes contribution to Bond Streets History and although she won't be continuing on the journey, I'm sure she will be making many more of her own during her retirement, especially now we have a gin convert on our hands.